Roam Wallpaper
Panel Width - 19 in / 48.26 cm
Pattern Repeat - 999999999 mm / 13-X
This value represents the dimension that the pattern repeats itself in inches and also the panel code #-X

The number represents the amount of 19in panels before the design repeats. The letter represents the Artwork type

• R- Oversized Repeat
• M- Mural
• X- Infinity Mural
• T- Traditional 19in Repeat

Textured Walls - Yes
Our wallpaper does work with lightly textured surfaces like standard orange peel & knockdown textures.
Moisture & Steam Resistant - Yes
Damage Free - Yes with limitations
In most all applications you will be able to remove your wallpaper with No damage. However because every wall and paint combination is unique, we cannot guarantee against minor paint peel during the removal process.
customers are viewing this product
Wall Blush Originals
Modern and simple. The perfect touch to the home that will be the epicenter of adventure and the room dying for that extra push of personality!
19-inch panel design and available in heights from 2 - 18 feet
Choose between a PEEL AND STICK VINYL application or a PASTE TO THE WALL TRADITIONAL NON-WOVEN application.
Subtle sheen
Teal and Tan Gradients

Easily removable making it the perfect wallpaper for renters, creating an accent wall, or a temporary art installation
Compatible with standard orange peel and knockdown textured walls
Testing is recommended for heavy textures
1.) Select the print of your choice.

2.) Choose which material you'd like for your wall.

3.) Select your wall height(If you are in between measurements, always round up to the nearest 2ft increment).

4.) Enter your width measurement(in inches or centimeters- select which metric you are using) to the "Calculate My Qty" box below the height on the product page. This will generate the quantity of panels needed to complete your wall based on your width measurement entered.

5.) Update the quantity of panels suggested and click "ADD TO CART".

6.) Once proceeding to checkout, please double check that your cart updated the correct height and quantity of panels needed for your project.

**Please note that ALL SALES ARE FINAL. Due to the custom nature of each order, it is important to double check your measurements are correct before placing your order as changes to dimensions or cancellations cannot be made once your order has been placed.
WALL BLUSH TERMS OF SALE
 POLICY
Due to the custom nature of each order, ALL SALES ARE FINAL and Wall Blush is unable to process cancellations. We urge you to triple check all dimensions on your order to ensure you purchased correctly as we cannot guarantee any changes to orders after they are placed.All purchases are custom made to your specific order. Wall Blush is not responsible for processing any returns or refunds due to incorrect measurements purchased.
I understand that the product I am ordering is made custom to the supplied requirements in this order and that I have properly measured and rounded up my measurements to ensure full coverage.
I understand that while it is possible and common to add to an existing order, WALL BLUSH is in no way responsible for slight color variances between the different orders that were processed at different times.
I understand that most all WALL BLUSH patterns do not repeat at a 24-inch interval like traditional wallpaper. Most of our patterns repeat every 50-100 inches making each panel completely unique. In order to successfully add additional panels to an existing order, it is important that you provide your previous order number as a reference and a detailed description of the panels you are requiring in the note section at checkout. Failure to add detailed notes will most likely result in you receiving non- refundable panels that do not continue or match where you left off.
I understand that once my order is processed by WALL BLUSH and supplied to the shipping carrier you the customer are supplied a tracking number. At this time I acknowledge that if packages are lost damaged or stolen, the responsibility remains with the carrier. Although we are willing to help assist your claim with the shipping carrier WALL BLUSH will not be liable for any lost, damaged, or stolen packages.
RETURN/REFUND POLICY

Wall Blush does not offer returns or refunds for any reason other than a damaged or defective print.
All purchases are custom made to your specific order.
Wall Blush is not responsible for processing any returns or refunds due to incorrect measurements purchased.
To process a return/refund, we require photos of the entire print laid out on the ground and zoomed images of any defects. Due to varying installation methods, any wallpaper partially installed will not be refunded. For this reason, we urge you to lay our your product on the floor as soon as it arrives and inspect it before installation. We do not accept returns or exchanges for any reason after installation is started.
Due to the custom nature of each order, ALL SALES ARE FINAL and Wall Blush is unable to process cancellations. We urge you to triple check all dimensions on your order to ensure you purchased correctly as we cannot guarantee any changes to orders after they are placed.
DOMESTIC SHIPPING POLICY

All orders are normally processed within 7-14 business days. Orders are not shipped or delivered on weekends or holidays. If we are experiencing a high volume of orders, or if you placed an order during a sitewide sale your shipment may be delayed 10-15 additional days for processing. Production/Processing time does not include 3rd party delivery estimates, please allow additional days in transit. 
SHIPPING RATES & DELIVERY ESTIMATES

Shipping charges for your order will be calculated and displayed at checkout. Shipment method Estimated delivery time Shipment cost is calculated by UPS.  Delivery delays can occasionally occur. 
SHIPMENT CONFIRMATION & ORDER TRACKING

You will receive a Shipment Confirmation email once your order has shipped containing your tracking number(s). The tracking number will be active within 24 hours.
CUSTOMS, DUTIES & TAXES 
WALLBLUSH.com is not responsible for any customs and taxes applied to your order. All fees imposed during or after shipping are the responsibility of the customer (tariffs, taxes, etc.).
DAMAGES / LOST AND STOLEN PACKAGES 
WALLBLUSH.com is not liable for any products damaged or lost/stolen during shipping. If you received your order damaged, please contact the shipment carrier to file a claim. Please save all packaging materials and damaged goods before filing a claim.  
How to measure and order wallpaper
Customer Reviews
Write a Review
Ask a Question
Very happy
This was a pretty straight forward DIY. Follow the instructions and do your best. The most challenging would be the cutting top and bottom after application, you need a straight hand to cut. Also when we got to the last panel in the corner, that was a challenge but managed and it looks very good! Very happy with the end product, take your time, have more than one person to help when needed. Be confident and you'll walk into the room and feel very good.
04/14/2022
Hannah J.

United States
Beautiful colors, easy to apply, perfect for my boys room
I installed this on a 9x12 wall in my kids bedroom. I did it by myself and while there were a few frustrations of not having an extra set of hands, I did it in 2 hours, including prep work. This is my 2nd purchase with wall blush and I am a huge fans. The prints are beautiful, they are easy to install, and add so much character to a room. If you are on the fence, do it! You won't regret it. This print can work in so many different spaces, cozy mountain guest retreat or office space, or a charming kids bedroom, playroom or nursery.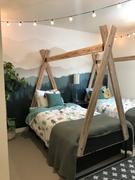 04/01/2022
Kimberly S.

United States
So Beautiful. Needed professionals though.
The wallpaper is high quality and gorgeous- exactly as advertised. My novice spouse and I along with an experienced peel & stick friend attempted to put the mural up ourselves and got 2 panels in before we needed to lift a panel off the wall slightly in one area to adjust it and it's SO adhesive it took the wall off with it. Fortunately, Wallblush will reprint just a single panel for you (great especially for murals with no repeating panels) and they dispatched it right away for a reasonable fee. They accidentally sent the wrong one but remedied it immediately for free. Meanwhile, we fixed the wall back up so it was smooth. Then we paid $300 for professional wallpaper installers to complete the job. We are so happy with the finished product, but I warn anyone who is not an expert at peel & stick to build some money into your budget for professional installers! 4 stars only because I would not consider this to be DIY.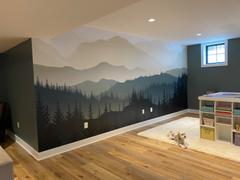 02/15/2022
Agrifino E.

United States
Overall Great
The wallpaper quality was heavy and thick. It was not flimsy and really covered our flat textured walls without issue. The only gripe is the photoshop job on one of the prints. The pine trees just disappeared and faded away in the middle of the mural and it didn't look cohesive. Having worked in photoshop, I know what happened and how I would have fixed it but its what we got. Luckily, our TV will be covering up the graphic blunder so it won't be an issue. It would be a five star review due to the quality of the product but the graphic error brings it to a 4 star. Overall, I would order again.
01/06/2022
Kathleen D.

United States
LOVE IT
Just received the sample but am excited to plan my new room around this mural. Once everything is finished, I'll definitely post a picture.