Lilian's Grove
Wall Blush Originals This gorgeous foliage pattern is the perfect blend of natural, watercolor tones that will bring classic elegance to the room.  24 inch panel design and available in heights from 2 - 14 feet Easy peel and stick application Subtle sheen Neutral tones Easily removable making it the perfect wallpaper for renters, creating...
Wall Blush Originals
This gorgeous foliage pattern is the perfect blend of natural, watercolor tones that will bring classic elegance to the room. 
24 inch panel design and available in heights from 2 - 14 feet
Easy peel and stick application
Subtle sheen
Neutral tones

Easily removable making it the perfect wallpaper for renters, creating an accent wall, or a temporary art installation
Compatible with lightly or orange peel textured walls
Testing is recommended for heavy texture
RETURNS POLICY
Wall Blush does not offer returns for any reason other than a damaged or defective print. All purchases are made to order and your order is made just for you. For a return, we require a picture of the entire mural laid out on the ground and zoomed images of any defects. Due to varying installation methods, any partially installed murals will not be refunded. For this reason, we urge you to lay our your product on the floor as soon as it arrives and inspect it before installation. We do not accept returns or exchanges for any reason after installation is started .
DOMESTIC SHIPPING POLICY

All orders are processed within 4-6 business days. Orders are not shipped or delivered on weekends or holidays. If we are experiencing a high volume of orders, shipments may be delayed 4-6 additional days for processing. Please allow additional days in transit for delivery. If there will be a significant delay in shipment of your order, we will contact you via email or telephone. 
SHIPPING RATES & DELIVERY ESTIMATES

Shipping charges for your order will be calculated and displayed at checkout. Shipment method Estimated delivery time Shipment cost is calculated by UPS.  Delivery delays can occasionally occur.
SHIPMENT CONFIRMATION & ORDER TRACKING

You will receive a Shipment Confirmation email once your order has shipped containing your tracking number(s). The tracking number will be active within 24 hours.
CUSTOMS, DUTIES & TAXES 
WALLBLUSH.com is not responsible for any customs and taxes applied to your order. All fees imposed during or after shipping are the responsibility of the customer (tariffs, taxes, etc.).
DAMAGES / LOST AND STOLEN PACKAGES 
WALLBLUSH.com is not liable for any products damaged or lost/stolen during shipping. If you received your order damaged, please contact the shipment carrier to file a claim. Please save all packaging materials and damaged goods before filing a claim.  
WALL BLUSH TERMS OF SALE
 POLICY
I understand that the product I am ordering is made custom to the supplied requirements in this order and that I have properly measured and rounded up my measurements to ensure full coverage.
I understand that while it is possible and common to add to an existing order, WALL BLUSH is in no way responsible for slight color variances between the different orders that were processed at different times.
I understand that most all WALL BLUSH patterns do not repeat at a 24-inch interval like traditional wallpaper. Most of our patterns repeat every 50-100 inches making each panel completely unique. In order to successfully add additional panels to an existing order, it is important that you provide your previous order number as a reference and a detailed description of the panels you are requiring in the note section at checkout. Failure to add detailed notes will most likely result in you receiving non- refundable panels that do not continue or match where you left off.
I understand that once my order is processed by WALL BLUSH and supplied to the shipping carrier you the customer are supplied a tracking number. At this time I acknowledge that if packages are lost damaged or stolen, the responsibility remains with the carrier. Although we are willing to help assist your claim with the shipping carrier WALL BLUSH will not be liable for any lost, damaged, or stolen packages.
Customer Reviews
Write a Review
Ask a Question
09/16/2021
Kelli D.

United States
09/13/2021
Cari L.

United States
Absolutely stunning!
This wallpaper is a gorgeous on the wall as it is in the pictures! This went up in a guest room and now I am thinking this should have been put up in the master! The colors are beautiful and the pattern is breathtaking. Installation was somewhat challenging at first, until you get the hang of it. Two people is a must! My walls are slightly textured so there are a few areas it took a little more time to get it to stick. This is NOT for heavily textured walls! Overall, I am extremely pleased with the quality and ease of installation of this wallpaper.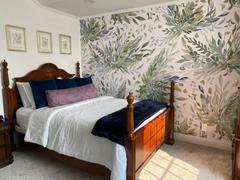 09/07/2021
Kristen K.

United States
Mostly as expected
Over all I love the design and in person it looks just as good as online. The only complaint is one portion is rippled in the center and it is now stuck like that. It is harder to apply than one would think!
08/17/2021
Alison R.

Canada
Gorgeous result
First of all I absolutely love the gorgeous colours and design of this wallpaper. It's looks so beautiful on my bedroom wall and I feel like I'm sleeping in a Monet painting! I've put up regular wallpaper many times without any problem but peel and stick is much more difficult than I expected. It's just so darn sticky and between matching the pattern and holding up the excess at the top I really struggled. I think it's definitely a 2 person job but good news…my marriage is still intact and we might even attempt Wall blushing another room.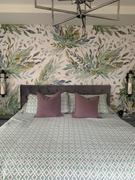 Thank you for your review Alison, I'm glad you're enjoying the wallpaper. I'm sorry to hear that installation was more difficult than expected and it sounds like we need to make some adjustments in our instructions! We'll be sure to get back to you with a solution as soon as possible. Thank you again for taking the time to let us know about this issue and please don't hesitate to reach out if there's anything else we can do.
08/07/2021
Carli E.

United States
"You held our hands"
Our experience was great!! We can't believe how easy & successful the whole process was! My husband was not looking forward to this project, I must say! From the day I ordered the wall paper, i chatted with your associates who practically held my hand and I knew this company cares…Thank you for "holding our hands"
Thank you so much for your review and all the gorgeous photos Carli! We care about our customers and want to make sure they are successful with their projects. I am glad we were able to help in such a small way.