Oliver Wallpaper
Panel Width - 19 in / 48.26 cm
Pattern Repeat - 50in
This value represents the dimension that the pattern repeats itself.
Textured Walls - Yes
Our wallpaper does work with lightly textured surfaces like standard orange peel & knockdown textures.
Moisture & Steam Resistant - Yes
Damage Free - Yes with limitations
In most all applications you will be able to remove your wallpaper with No damage. However because every wall and paint combination is unique, we cannot guarantee against minor paint peel during the removal process.
customers are viewing this product
The perfect Scandinavian modern touch. These minimalist arrows will point you to joy the second the go on the wall.

Part of the Chelsea DeBoer Line by @ChelseaHouska
24-inch vertical panel design
Supports Walls up to 24ft wide and available in lengths of 2 ft through 14 ft
Easy peel and stick application
Subtle sheen
Black and White

Easily removable making it the perfect wallpaper for renters, creating an accent wall, or a temporary art installation
Compatible with standard orange peel and knockdown textured walls
Testing is recommended for heavy textures
RETURNS POLICY
Wall Blush does not offer returns for any reason other than a damaged or defective print. All purchases are made to order and your order is made just for you. For a return, we require a picture of the entire mural laid out on the ground and zoomed images of any defects. Due to varying installation methods, any partially installed murals will not be refunded. For this reason, we urge you to lay our your product on the floor as soon as it arrives and inspect it before installation. We do not accept returns or exchanges for any reason after installation is started .
DOMESTIC SHIPPING POLICY

All orders are processed within 7-14 business days. Orders are not shipped or delivered on weekends or holidays. If we are experiencing a high volume of orders, shipments may be delayed 4-6 additional days for processing. Please allow additional days in transit for delivery. If there will be a significant delay in shipment of your order, we will contact you via email or telephone. 
SHIPPING RATES & DELIVERY ESTIMATES

Shipping charges for your order will be calculated and displayed at checkout. Shipment method Estimated delivery time Shipment cost is calculated by UPS.  Delivery delays can occasionally occur.
SHIPMENT CONFIRMATION & ORDER TRACKING

You will receive a Shipment Confirmation email once your order has shipped containing your tracking number(s). The tracking number will be active within 24 hours.
CUSTOMS, DUTIES & TAXES 
WALLBLUSH.com is not responsible for any customs and taxes applied to your order. All fees imposed during or after shipping are the responsibility of the customer (tariffs, taxes, etc.).
DAMAGES / LOST AND STOLEN PACKAGES 
WALLBLUSH.com is not liable for any products damaged or lost/stolen during shipping. If you received your order damaged, please contact the shipment carrier to file a claim. Please save all packaging materials and damaged goods before filing a claim.  
WALL BLUSH TERMS OF SALE
 POLICY
I understand that the product I am ordering is made custom to the supplied requirements in this order and that I have properly measured and rounded up my measurements to ensure full coverage.
I understand that while it is possible and common to add to an existing order, WALL BLUSH is in no way responsible for slight color variances between the different orders that were processed at different times.
I understand that most all WALL BLUSH patterns do not repeat at a 24-inch interval like traditional wallpaper. Most of our patterns repeat every 50-100 inches making each panel completely unique. In order to successfully add additional panels to an existing order, it is important that you provide your previous order number as a reference and a detailed description of the panels you are requiring in the note section at checkout. Failure to add detailed notes will most likely result in you receiving non- refundable panels that do not continue or match where you left off.
I understand that once my order is processed by WALL BLUSH and supplied to the shipping carrier you the customer are supplied a tracking number. At this time I acknowledge that if packages are lost damaged or stolen, the responsibility remains with the carrier. Although we are willing to help assist your claim with the shipping carrier WALL BLUSH will not be liable for any lost, damaged, or stolen packages.
Customer Reviews
Write a Review
Ask a Question
Cute addition!
Love the Oliver wallpaper we used for an accent wall. This was our first time using wallpaper and it went pretty smooth. Corners stink only because the backing was so thick making it hard to form but small bubbles and wrinkles came out with a little heat from the blow dryer. Packaging was a little confusing because some had each roll labeled in the order to place but mine just had the jpeg# so I went off that. It could be done by one person but highly recommend a partner to help. Super sturdy and no peeling issues at all!!
12/20/2021
Jessica B.

United States
Cute, tough to line up the pattern
Very cute print, perfect for our nursery. Overall wasn't too difficult to install except when it came to lining up the print. Might be easier if all panels were the same but overall I'm very happy with the way it turned out!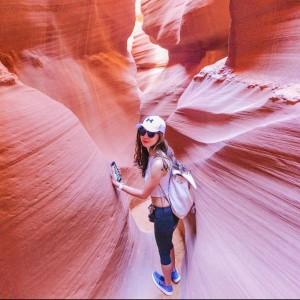 JT
03/02/2021
Jenny T.

United States
Beautiful Modern wallpaper
love this modern wallpaper. looks neat but makes difference to a space.
02/14/2021
Krista P.

United States
Over-Hyped
I might have felt more 4 star about my experience using Wall Blush if 1. It wasn't so expensive and 2. If it wasn't so positively promoted. I think maybe they pay for reviews and/or influencer promotion a lot because my phone was flooded and I fell for it. My first issue was how hard it was to get the sticker off each roll. Then, once I pulled it off, there was a ton of sticky residue I had to wipe/push off. The process literally took about 5 minutes each toll. The wallpaper itself is definitely a two person job, and was moderately easy to install. My biggest complaint is that the pattern didn't line up on the last 2 feet or so of our last roll. I would say it was user error, but by that point we had gotten the hang of it and felt confident in our abilities. It took us about as long to instal that one roll as the previous two rolls because we were trying to get it to line up down there and it just doesn't. Luckily it will be hidden behind our washer. Now that it's up and the room is finished it looks really good and I'm happy with it. I would recommend with warning to anyone who asked me about it so they understand what they're getting into better than I did. *I am responding to an email asking me to review my purchase with no option to add pictures, but will add pictures to my review on the website if possible.