The Nora Mural
Panel Width - 19 in / 48.26 cm
Pattern Repeat -
This value represents the dimension that the pattern repeats itself.
Textured Walls - Yes
Our wallpaper does work with lightly textured surfaces like standard orange peel & knockdown textures.
Moisture & Steam Resistant - Yes
Damage Free - Yes with limitations
In most all applications you will be able to remove your wallpaper with No damage. However because every wall and paint combination is unique, we cannot guarantee against minor paint peel during the removal process.
customers are viewing this product
The Minty Line
by Angela Knutson
@mrs.minty -
This piece is such a beautiful design in the Minty Line, with a twist! Angela's 2 year old daughter, Nora actually painted this! You will fall in love with Nora's fun and playful mix of organically placed pinks and neutrals. Beautiful is an understatement!
19-inch panel design
Easy peel and stick application
Subtle sheen
White
Easily removable making it the perfect wallpaper for renters, creating an accent wall, or a temporary art installation

Compatible with lightly or orange peel textured walls

Testing is recommended for heavy textures
1.) Select the print of your choice.

2.) Choose which material you'd like for your wall.

3.) Select your wall height(If you are in between measurements, always round up to the nearest 2ft increment).

4.) Enter your width measurement(in inches or centimeters- select which metric you are using) to the "Calculate My Qty" box below the height on the product page. This will generate the quantity of panels needed to complete your wall based on your width measurement entered.

5.) Update the quantity of panels suggested and click "ADD TO CART".

6.) Once proceeding to checkout, please double check that your cart updated the correct height and quantity of panels needed for your project.

**Please note that ALL SALES ARE FINAL. Due to the custom nature of each order, it is important to double check your measurements are correct before placing your order as changes to dimensions or cancellations cannot be made once your order has been placed.
WALL BLUSH TERMS OF SALE
 POLICY
I understand that the product I am ordering is made custom to the supplied requirements in this order and that I have properly measured and rounded up my measurements to ensure full coverage.
I understand that while it is possible and common to add to an existing order, WALL BLUSH is in no way responsible for slight color variances between the different orders that were processed at different times.
I understand that most all WALL BLUSH patterns do not repeat at a 24-inch interval like traditional wallpaper. Most of our patterns repeat every 50-100 inches making each panel completely unique. In order to successfully add additional panels to an existing order, it is important that you provide your previous order number as a reference and a detailed description of the panels you are requiring in the note section at checkout. Failure to add detailed notes will most likely result in you receiving non- refundable panels that do not continue or match where you left off.
I understand that once my order is processed by WALL BLUSH and supplied to the shipping carrier you the customer are supplied a tracking number. At this time I acknowledge that if packages are lost damaged or stolen, the responsibility remains with the carrier. Although we are willing to help assist your claim with the shipping carrier WALL BLUSH will not be liable for any lost, damaged, or stolen packages.
RETURN/REFUND POLICY

Wall Blush does not offer returns or refunds for any reason other than a damaged or defective print.
All purchases are custom made to your specific order.
Wall Blush is not responsible for processing any returns or refunds due to incorrect measurements purchased.
To process a return/refund, we require photos of the entire print laid out on the ground and zoomed images of any defects. Due to varying installation methods, any wallpaper partially installed will not be refunded. For this reason, we urge you to lay our your product on the floor as soon as it arrives and inspect it before installation. We do not accept returns or exchanges for any reason after installation is started.
Due to the custom nature of each order, ALL SALES ARE FINAL and Wall Blush is unable to process cancellations. We urge you to triple check all dimensions on your order to ensure you purchased correctly as we cannot guarantee any changes to orders after they are placed.
DOMESTIC SHIPPING POLICY

All orders are normally processed within 7-14 business days. Orders are not shipped or delivered on weekends or holidays. If we are experiencing a high volume of orders, or if you placed an order during a sitewide sale your shipment may be delayed 10-15 additional days for processing. Production/Processing time does not include 3rd party delivery estimates, please allow additional days in transit. 
SHIPPING RATES & DELIVERY ESTIMATES

Shipping charges for your order will be calculated and displayed at checkout. Shipment method Estimated delivery time Shipment cost is calculated by UPS.  Delivery delays can occasionally occur. 
SHIPMENT CONFIRMATION & ORDER TRACKING

You will receive a Shipment Confirmation email once your order has shipped containing your tracking number(s). The tracking number will be active within 24 hours.
CUSTOMS, DUTIES & TAXES 
WALLBLUSH.com is not responsible for any customs and taxes applied to your order. All fees imposed during or after shipping are the responsibility of the customer (tariffs, taxes, etc.).
DAMAGES / LOST AND STOLEN PACKAGES 
WALLBLUSH.com is not liable for any products damaged or lost/stolen during shipping. If you received your order damaged, please contact the shipment carrier to file a claim. Please save all packaging materials and damaged goods before filing a claim.  
Customer Reviews
Write a Review
Ask a Question
02/22/2022
Kelly

United States
Love it! Except..
It is so beautiful and almost everything I hoped for! The pattern is perfect for our baby girl's nursery!! However, the third panel was cut with a curve so it didn't match up. It was 2 inches wider in the middle of the panel than the top and bottom so in order for it to overlap at the top and bottom, we couldn't have it align properly. It is our second time using sticker wallpaper, but first time with this company. As a perfectionist, it's such an eye sore to see, what I thought would be a forgiving pattern, not align by 0.5-2 inches! Thankfully, we were able to get it all matching correctly from panels 4-9. Looks great overall.
11/03/2021
Melyssa H.

United States
Everything!!
Purchased for my little one's "big girl" room. When the accent wall was complete, little one hugged the wall & said "I love it!" Me too little one, me too! Perfect addition to her room, easy application, & the customer service was amazing & responsive. Currently brainstorming ideas for future wall blush designs in our new home!
08/09/2021
Samantha H.

United States
Gorgeous wall
My wall looks gorgeous!! Def easier to put up with 2 people. The last piece is tricky and difficult getting into corner of the wall and keeping it straight, but we eventually got it to work.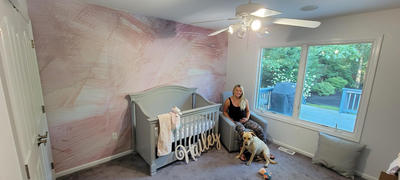 I'm so happy to hear you love your new wall, Samantha! Thank you for the detailed review and photo and I'll pass this feedback on to our design team.
05/19/2021
Jasmin S.

United States
Nursery
I love how it turned out. It looks so pretty in the nursery. It was our first time dealing with wallpaper and it's very forgiving if you need to re adjust. 10/10 would recommend.
05/08/2021
Alyssa B.

United States
Nora Mural
The panels design did not align when moving from 1-2-3. Also my third panel was not cut leveled. The design was nice however the cut was off